Norton antivirus products generally do good job keeping their activities minimum while your laptop is battery powered and help you to get longer battery life. However, many Norton users have been complaining about its high CPU usage after closing Google Chrome.
(You can see more by searching with high cpu after closing google chrome at the Norton Community site ).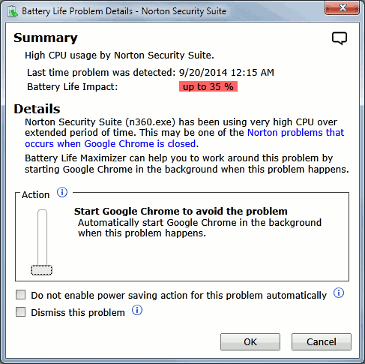 All of these problems are happening because Norton (actual program's name varies depending which version of Norton product you have) starts scanning Google Chrome (chrome.exe) soon after it is closed, and stuck in the loop for very long time. This will keep one CPU 100% busy. Therefore, if your laptop has only one logical CPU, it shows 100% usage. If your laptop has 4 logical CPUs (dual-core with hyper threading enabled, for example), it shows 25% usage. In either case, this is a serious problem for battery life (and performance, too) and should be stopped immediately.
As of this writing (September 2014), the cause of this problem is not known and I don't see any valid response from Symantec (the maker of Norton products). But, all reports listed above mention that the problem goes away when Google Chrome is re-opened. Therefore, you can avoid this problem by simply keeping at least one Google Chrome running.
It sounds like an easy solution, but if you are used to close web browser tab when you are done with the page, it's actually not so easy to keep browser window open. You can easily forget about this problem and close all Google Chrome windows and remember it after your battery is drained...
Battery Life Maximizer will help you to avoid this problem by simply staring Google Chrome in the background when this problem happens. All you need to do is move the slider and select Start Google Chrome to avoid the problem. Once you choose this setting, Battery Life Maximizer will monitor Norton's activity and, when this problem happens, starts Google Chrome in the background automatically for you.